Even the seemingly smallest thing can make a massive impact and one artist is showing us how with an art installation that's going viral on social media.
Mexican artist Jorge Mendez Blake is the creator of an art installation that is simple in theory, but is speaking volumes to thousands of people all over the world. The installation features a seemingly normal brick wall, until you look a little closer and notice a hill in the middle. The reason? A sole Spanish edition of El Castillo by Franz Kafka is at the base of the wall.
Early last month, Spanish Facebook page El Club de los Libros Perdidos (The Club Of The Lost Books) shared a picture of the installation, and later that month, another Facebook user shared one as well. Ever since, the art installation has been going viral. (Although the work is being called "The impact of a book," this isn't the official name.)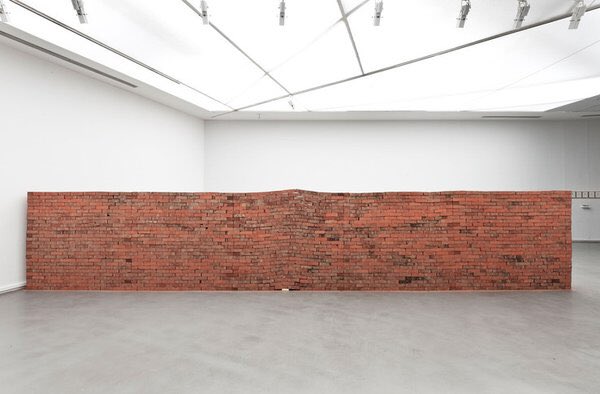 According to the Spanish publication La Capital, the installation was initially created in 2007 and has been featured in various museums around the world. Each time, the wall is built without glue or adhesives, but the book is always the same. The height is also always the same — 1.8 meters — but depending on the museum, it varies in length, with the longest installation being 23 meters long and 5,000 bricks used.
"I started experimenting with books and supplies, so the idea of the work came naturally," Blake told La Capital. "I have always interested me the difference of scale. How a little thing can transform something big."
The above Facebook post has been shared almost 75,000 times and has garnered over 50,000 likes, with various people commenting calling it "magnificent" and "excellent." Just one question: why this specific Kafka novel? "[T]he character of history is against a system anonymously and tiny and does not know [he] is fighting an entire structure. The book does the same work," Blake explained to La Capital.
[http://hellogiggles.com/viral-art-power-of-a-book/]