Helping a White Man Relearn Joie de Vivre
"Les Intouchables," having broken box office records in France, arrives in the United States with a faithfully translated title — "The Intouchables" — that is not quite English. American audiences looking for a suitable French name for this ingratiating comedy of cross-racial friendship might settle on "Déjà Vu," since it is a story we have seen many times before.
Though maybe not quite like this, or at least not in a while. "The Intouchables," directed by Olivier Nakache and Eric Toledano and based on a true story, is about two men — one rich, uptight and white; the other poor, exuberant and black — who become best pals in spite of their differences.The pallid aristocrat, Philippe (François Cluzet), is paralyzed from the neck down as the result of a hang-gliding accident and lives in a state of opulent ennui attended by a nervous staff and is ignored by his petulant adolescent daughter. He is a difficult boss, and his newest employee, a streetwise hoodlum named Driss (Omar Sy) does not look as though he will last long in the job. Not that Driss has much ambition to play nurse for some grouchy old invalid; he applies for the position only so he can continue to collect government benefits. Moving into Philippe's mansion, Driss steps away from a background of poverty, family dysfunction and trouble with the police. Under his boss's stern gaze and imperious tutelage he starts to acquire a work ethic and a sense of discipline. In exchange, he helps Philippe discover his appetite for life and his capacity for joy.
How does Driss do this? In the usual ways. He flirts shamelessly with the boss's secretary and gives Philippe's daughter the stern talking-to she needs. He introduces Philippe to the pleasures of marijuana, encourages him to start dating and loosens up a stuffy chamber-music soiree with some funky music.
It is possible to summarize the experience of watching "The Intouchables" in nine words: You will laugh; you will cry; you will cringe. The Intouchables is much more than a buddy movie and American sensitivities to race and culture are just that, American, and don't necessarily apply to the rest of the world.
The film is also very much about the fact that people deserve to be loved, yes those who are disabled, old, lesbian, gay and so on. In America the only people who deserve to be loved are the surgically enhanced, pouty lipped, botoxed, plastic fantastic monsters to populate our screens. This film is warm, funny and accepting of humanity in all its forms and in all its imperfect beauty.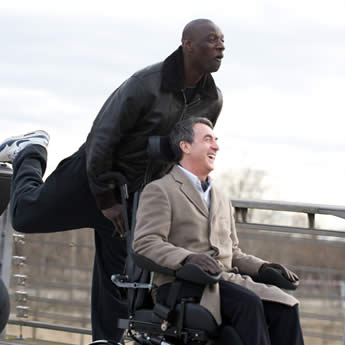 Source:Movies.nytimes.com